Culligan Connect App
Control your water anytime, anywhere!
The Culligan Wi-Fi Accessory
Introducing the Culligan Connect™ app - delivering real time information, peace of mind and 24/7 support from your Culligan Man.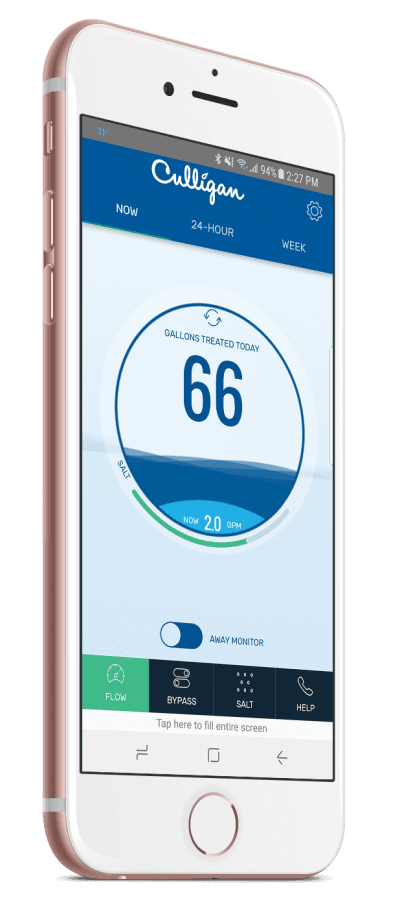 The Culligan Connect app is the latest innovation for High Efficiency Water Softeners and Reverse Osmosis Drinking Water Systems, making it more convenient for users to optimize performance and maximize efficiency of their Culligan equipment.
Why upgrade to Culligan Connect technology?
It saves you time - The Culligan Connect app home screen displays flow rates, water usage, salt levels and filter life in one easy-to-read format. It additionally provides 24/7 support to take the time out of service requests and troubleshooting.
It saves you money - The Culligan Connect app's bypass option saves you money on salt by only softening your water when needed. The app also lets you more closely track your water usage to give you the insight needed to cut back on water waste and lower your bills.
It saves you worry - The Culligan Connect app's away monitoring alerts you to any unexpected changes in flow while you're away and sends you notifications when your salt levels are running low or you need to replace a filter cartridge.
The Culligan Connect app is available to download for iOS and Android devices. It is compatible with new and existing High Efficiency Water Softeners and Reverse Osmosis Drinking Water Systems from Culligan.
Latest
Blog Posts
High-quality water is an essential component to a healthy life and vibrant home. Make sure yours is up to par
Salt-free water conditioning offers multiple benefits. It can be a great alternative to traditional water softening if you live in
Excellent customer service! We just had a new water softener installed a few days ago. Andy was quick, quiet, and friendly while working in our basement. He explained everything very clearly, and was very knowledgeable about the softener and the company. He even went the extra mile and fixed a leaky pipe he noticed when first arriving, saving me at least a couple hundred dollars in the process. Crossing that additional fix off my list of home projects made my week, sad as that may be. Cody, the owner, has also been very pleasant to work with. He did a free home water test, making sure to ask lots of questions, and test both the hard and soft water to know which unit would take on our well water the best. He's worked patiently with us to make sure we feel well cared for after two years of struggling with high iron, and dishonest deals. We're glad to have found a company that guarantees the units they install and the work they do.

Livi McDowell
- Culligan Customer